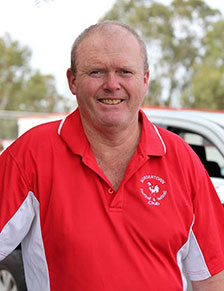 Aged
Nickname:
Status:
Lives:
Work:
AFL:
SANFL:

Played:





Coached:





Likes:
Dislikes:
Saying:















50
Trenners or Tren
Married to Kate (31), 4 Boys Henry; Ted, Jack & Sebastian
Bordertown
Self employed in Financial Planning Industry specialising in Insurance
Geelong ???? No one really
North Adelaide
Seniors North Adelaide SANFL 10 seasons
Mypolonga RMFL 3 games
CBCOC SAAFL 5 games
Bordertown KNTFL 2 games
Mundulla KNTFL 20 Reserves games

CBCOC SAAFL 1995-97
Bordertown KNTFL 2000-01
Mundulla KNTFL 2006-07
Bordertown Junior Colts 2013-15
Bordertown Senior Colts 2016

Holidays with family
People who think they have nothing more to learn
Expect the unexpected!