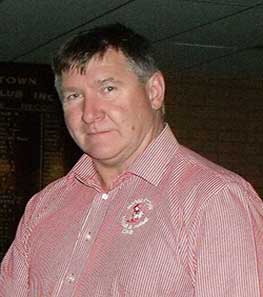 Welcome to my mid year report and what a year it's been so far! Like most people I certainly would like a few more wins, but I cannot be more proud of our young players who are all having ago in all grades. Our coaches and their assistant's are all working hard trying to get the desired results. We have fourteen players from our club who have been asked to try out for association so I congratulate every one of you who have been selected and I am sure you will represent our club and yourself to the best of your ability.
To our loyal supporters I urge you to keep coming and support and encourage our young teams as their improvement keeps us excited about the last half of the year. I encourage the parents to come out to the huddles and show support throughout the games, continue to encourage as the kid's as they will thrive even more. I also encourage families to join us in the clubrooms at home games to hear the results from around the other games and also to announce and present best players for both football and netball also the club draw is always around 8 o'clock. Affordable meals are always served and it's a great place to socialise and enjoy each other's company.
Our Football and Netball clubs are one of the most important assets to any community and our club is no different. I was made aware recently that every dollar spent at the club puts over four dollars back into the community, and you may ask how this happens. You only have to look at the business's we support and just to name a few- two Bakers, Chemist, Supermarket, two Hotels, Butchers and the Bank and numerous contractors including Builders, Electricians, Plumbers, Engineers etc and you can keep the list going.
If you need any more reasons why you need to be at the club playing Football and Netball is just a small part of it all. Playing sport teaches our players life skill's like team work, discipline, loyalty, respect and mateship and ability to tolerate others also social interaction and leadership which are all life skills required to get jobs and long term successful relationships.
To all our volunteers I thank you so far but we are not quite half way. Our committee has been working hard with many projects on the go such as the trainer's room near completed with updates to the change rooms coming up soon and nets to be installed at both ends of the oval and after all that we are hoping to do some maintenance to our famous grandstand. All these improvements add to what is one of the best facilities in country football to be even better. Our oval has been over sown with Ryegrass and fertilised and also gypsum has been spread and I would like to thank a few organisations Jolpac Chemicals, Sunnyside Instant Lawn and Border Ag.
With this we have an opportunity to hold a SANFL game Glenelg V Crows on Sunday July 30th. This again is fantastic for our club and town as we can show off our great community to others from near and afar. With our club not hosting a final this year this becomes a important fundraiser for our club so once again we need all our volunteers to be available on this day as well as before and after to make this day successful.
Our club has committed to the service's of Jared Lusher to teach and help with our young and developing lads in the gym on Monday and Wednesday nights in which we welcome Jared and his family into the club in what I feel is a great initiative.
I would also thank our young social club who have been meeting regularly on Thursday nights organising our club functions and they have been fantastic so let's get behind these functions they organise.
Speaking of Thursday nights I invite everyone down for fantastic meals (just ask the "OLD BLOKES" who come every Thursday). It's always just a great night to relax and find out team selections.
In closing it's "Onwards and Upwards" as usual and I would like to thank you for taking the time in reading this mid-year report and please do not hesitate to come and talk to me with any ideas etc to
keep this club great which belongs to everyone!
GO THE MIGHTY RRRROOSTERS!
Paul Diment
President