2017 is here already. The footballers have started training and our minds have switched back onto the football season, which is only a short time away.
I would like to thank you, for your ongoing support of the Bordertown Football Club. As you're aware we had a terrific year last year both on and off the field.
Having two sides playing on Grand Final day was a great achievement and to bring home the Senior Colts Premiership certainly made it a day never to be forgotten.
While the players get the Premiership medals, I would like you all to take credit because without your help and financial support, we wouldn't have our excellent facilities. Your sponsorship is vital for the club to continue to operate and develop on and off the field.
The Mighty Roosters are looking forward to 2017, to build on last year's success and make the Bordertown Football Club a place where you, your family and friends want to be.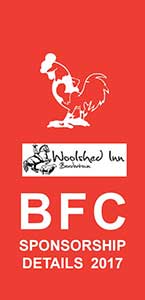 Download 2017 Sponsorship Package.
Please complete the attached Sponsorship form and fax to 8752 0475 or email sponsors@bordertownfootballclub.com.au or post to:
Bordertown Football Club
PO Box 267
Bordertown SA 5268