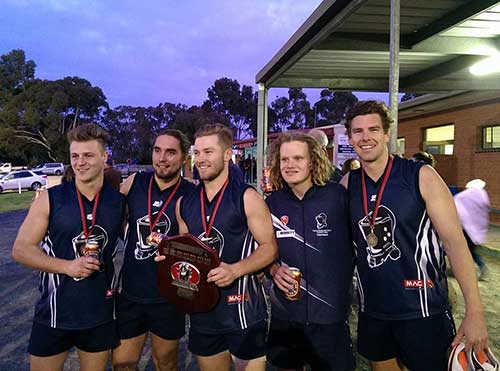 On Saturday 11th June, four strapping young lads Brent Shuttleworth, Nathan Clark, Clint Diment, Heath Caldwell and one old fella Kane Cuthbertson were selected to represent the KNTFL in the 3rd South East Zone Carnival. This is played against the Western Border Football League and Mid-South East Football League. Each league must pick a team of 23 players, with 5 to be U/21. The WBFL and KNTFL had one title win each leading into the carnival, with Mid-South East yet to claim the shield. The KNTFL team was coached by Adam Merrett (Penola) with Brad Richardson (Keith) and myself (Kane Cuthbertson) as his assistants.
It was an early start Saturday morning, kicking the dew off the oval for our first game at 10:40am against last year's Winners, the WBFL. The WBFL were missing a majority of their premiership team from last year and the KNTFL shot out of the blocks and kicked 5 goals to 0 in the first half. The KNTFL continued on their form in the 2nd half to run out winners by 51 points.
Our second game was at 12:30pm against a much improved MSE outfit. kicking with the breeze in the first half they kicked the first few goals of the match. The KNTFL were able to get a few late scores on the board to leave MSE up by 1 point during the break. Similar to the first game, the KNTFL lads had a great start to the 2nd half to kick 2 goals to 0 to run out eventual winners by 9 points.
The Grand Final was on at 4:10pm, the KNTFL against the MSE after the MSE had a huge win over the WBFL by 77 points. It was goal for goal for the most of the match with the KNTFL lads able to hold on for a close win by 6 points after the MSE had plenty of the play to finish off the game. In the 3 years the Carnival has been held, each final has been decided by 6 points or less giving the spectators great country football to watch.
All boys performed strongly in all games with some hard hits, quick running, great skills and also featured in the best players several times. To top the day off Clint Diment, Heath Caldwell and myself were selected in the Murray South East squad to try out for the SA Country Championships to be held in Pt Lincoln on July.
Kane 'Modra' Cuthbertson
KNTFL Assistant Coach