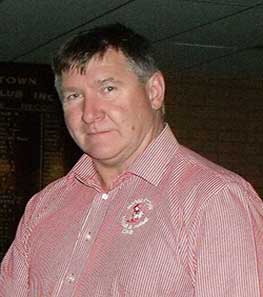 It is with mixed emotions that I bring you this report as we head into finals. With 2 teams heading into finals and 2 teams lamenting what could have been! I would like to thank Hayden Whittlesea and his team for a courageous effort. To Coxy and his team of helpers, I would like to also thank you for your efforts.
Simon and his crew finishing on top and managing a talented group of lads it certainly has been a fantastic season with plenty of work still to do, I wish you all the best along with Mal & his group of merry men who have plenty of unfinished business after the Reserves bowing out in straight sets the last 2 years.
The year has been busy with some fantastic social functions. I would like to take this opportunity to thank all those that have helped along the way. The Committee has been once again fantastic, hardworking and totally supportive. To all those who have helped organise & assist with the social functions they have been great and memorable and looking forward to these young people being future leaders of our great club!
Once again I would like thank all our Sponsors who are so important to our club and hope our association will continue to be beneficial to both parties.
So with Preliminary Final left at our oval please make yourself available to help to show the rest of the league how good our club is. Please also mark September 11 on your Calender for the Junior football and Netball presentations and also September 24 for the seniors Netball and Football Presentations.
In finishing please get behind all our teams in netball and Football during the finals and cheer, cheer the red and white home to hopefully many Premiership Flags!!
President
Paul Diment