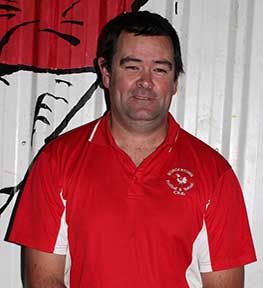 We have been blessed with lots of numbers so far, with around 10 players missing out on a game each week. This is very healthy for the club, as a lot of other clubs have been struggling for numbers.
We started the season slowly with 2 losses. We identified a few areas that were letting us down, and also made some positional changes. This seem to work, winning 4 games in a row.
The game against lucindale we fell back into old habits from the first 2 rounds. Skill errors and stoppage problems cost us the game. We addressed this during the week, and the boys responded in the best possible way with a big win over Keith. This game has showed me that we can compete against anyone, as long as everyone is playing their part.
We now have 2 weeks off and then we play Padthaway. This is a must win.
I have been so impressed with all the young fellas stepping up to a grade level this year. Their attitude has been very good. In fact everyone's attitude has been very good, which makes coaching very enjoyable.
The top 6 sides this year are very even, so we must make sure we are doing all the right things at training, and transforming this into game day.
Really looking forward to the rest of the season.
Thanks
Coxy