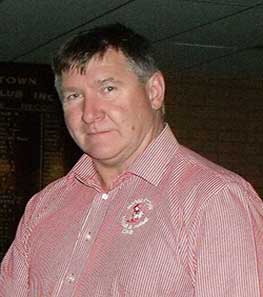 Welcome all to my midyear report, already we are up to round 9 and the season is halfway, my word time flies when you are having fun!
The club has had some great functions so far starting with Family Social Day and how good was that with great food and good entertainment and the weather to match. This was followed by the Mark "Bomber" Thompson night with great numbers turning out. Saturday nights have been good but we also love to see more as the tea's on Thursday and Saturday night's are the best value in town and I would also go to say the best in the league! Against Mundulla we had a Reunion Weekend with many old footballers returning for the weekend and by the look of them on the Sunday morning recovery they thoroughly enjoyed it. We enjoyed having them back and with our lads also doing the right thing by winning in all four grades.
The Rump and Red is coming up June 18th with comedians supplying the entertainment for the night, it's sure to be a cracker! Crocodiles are also booked and playing round 12, July 2nd and you always can rely on them for a top night! Some of the proceeds from this night will go to the Cancer Foundation so make sure we all get there and enjoy the night.
On the park we are seeing all the teams having a go with some good results to show. With the bye and interleague coming up some of the players are will certainly be enjoying the break. We are fortunate to have good number of players to be invited to try out for interleague teams. So on behalf of the club I would like to congratulate these players:
U 14's Angus Day, Seb Trenorden, Ethan Smedley.
U 15's Lachlan Murch, Tyson Leigh, Lachlan Makin.
U 17.5's Curtis McCarthy, Matt Leigh, Harry Fromm, Riley Densley, Beau Shinnick, Brodie Foulds,
Seniors Rory Tink, Kane Cuthbertson ( Assistant Coach) Clint Diment, Nathan and Carson Clark, Ben McConnell, Gene Robinson and Heath Caldwell.
Off the field we have made some alterations to the Trainer's room by removing the wall into the old Umpires room, which has opened the Trainer's room right up. This has made the room a lot more comfortable and professional. Many thanks must go to Michael Clark, Ben Jarrett, Shaun Creaser, Brent Shuttleworth, Jock Densley, Lino Borrillo, Peter Foulds, Gavin Blackwell and Bordertown Pumps for making it happen.
We are always very thankful of our Tradies, Sponsors and Volunteers as week in and week out they continue to support the club. In saying that I would like to remind everyone that we are a Community Club and by everyone volunteering and helping each week we spread the work load to make it easier for everyone. Doing this results in the club continuing to succeed both on and off the field and making us the envy of the league. Please when you are asked to help do not say no as we all will benefit from everyone helping.
So in finishing I urge everyone to continue to keep being involved and enjoy each other's company and continue to support both our girls in Netball and boys in Football and I am sure the results will be that we will have a very successful club!
Go the Roosters!
Paul Diment