On the June long weekend we had 4 under 15 players in Jack Trenorden,Lincoln Weatherald,Dusty Inglis and Hayden Shuttleworth represent the KNT at Hatherliegh. Our first game saw us up against the MSEFL in which we were comfortable winners by around 12 goal. Having won that game it meant we were going to face our old rival in Glenelg in the Final.
It was about a 3 hour wait between games so all boys were well rested and very keen. The game started at a hectic pace with Glenelg kicking with the Breeze to the southern end and at half time they were up by about 10 points,with this we new if we stuck to our game plan and kept our work rate up we could over run them.
The game was probably as physical a game of junior football I've seen with all boys from both sides throwing themselves at every contest. By the time the siren sounded we were up by 16 points which was a great achievement for a group of lads who had only had 3 one hour training sessions together. As always our four lads did both our club and the KNT proud so a big congratulations to them on achieving the win.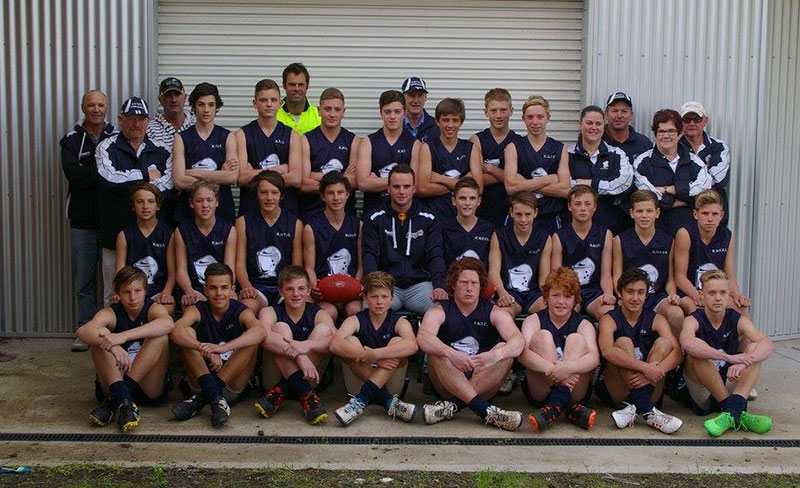 U.14's were Lachie Murch, Tyson Leigh & Lachie Makin who captained that side.
U.17's were Ben Jarrett . Zac McLellan, Jacob Eats and Ethan O'Sullivan.
Seniors Nathan Clark, Nick Hewitt and Gene Robinson were selected in the squad, with Kane Cuthbertson being our only representative, and was the captain of that team. Kane has also being invited to train for the Murray South East Zone squad played on July 4-5. We wish Kane all the best.