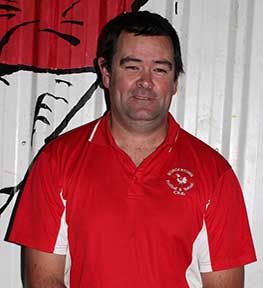 The Bordertown Football Club Committee would like to announce Simon Cox will be the Senior Coach, Mal Coutts will be the Reserves Coach, Simon Trenorden will be the U17 Coach and Hayden Whittlesea will be the U14 Coach for 2016.
Simon grew up on a farm in Keith and moved to Adelaide when he was 16. He played for Glenelg for 2 years and was drafted to the Western Bulldogs in 1994. He played with the Bulldogs until 2001.
He was drafted to Hawthorn and played for 2 years in 2002 and 2003.
He marrired his wife Claire in 2003. They lived in Melbourne for a couple of years, spent 6 months in Darwin before moving to Adelaide.
Once in Adelaide they had their family, Jessica who is now 8 and Charlie 5.
Simon and Claire spent 5 years in Adelaide before getting sick of city life and moved to Naracoorte where they now reside.
Simon works at Teys, the meatworks in Naracoorte and Claire works in Childcare.
Since being in Naracoorte Simon coached the Reserves for 3 years winning 2 flags and Runner up the other year. He coached the A grade this year.
Simon is looking forward to teaching and improving every player at Bordertown next year.
Congratulations to all our Coaches!!